Meeting with Tamil Nadu Mayor
Meeting with Tamil Nadu Mayor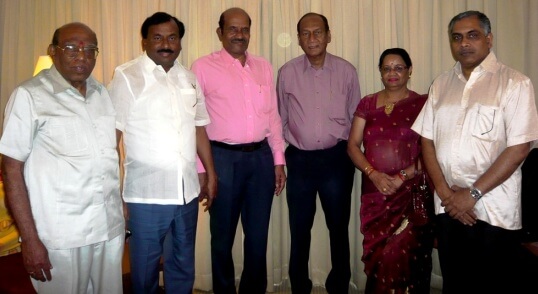 The Mayor of Tamil Nadu, Mr Saidai Duraisamy invited two key Officials of the Tamils Representative Council for a meeting. The meeting was held on Sunday, 1st July 2012 from 3.30 p.m. to 5.30 p.m. Mr Saidai Duraisamy was in town as he was participating in the World Cities Summit held from 30 June 2012 to 4 July 2012.
TRC was represented by its President, Dr R. Theyvendran PBM and its General Secretary, Mr V. Pandiyan. Mr A V Krishnasamy, President of Singai Tamil Sangam was also present together with Dr Thinnappan. Due to time constraints he conveyed his regrets on not being able to meet the other organisations and community leaders.
A fruitful discussion took place ending with the Mayor inviting us to meet him when we next visit Chennai. The discussion focused on the status of Tamils (Citizens, PRs and Expatriates) living in Singapore and their economic status. Mr Duraisamy also briefed on some of the new initiatives introduced in Chennai under the new government.