Father's Day Celebration
FATHER'S DAY CELEBRATION "APPA! OUR HERO"
Sirpigal organised Father's Day Programme "Appa – Our Hero" on Sunday 17 June 2012 at Spans Jom Clubhouse.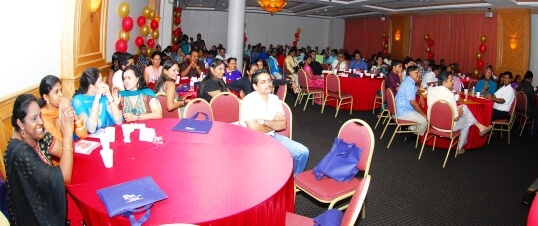 It was first of its kind, and Sirpigal was delighted that it undertook this programme in celebrating the Unsung Heroes. Fathers ,the Head of Family are often unnoticed because they are always busy ensuring all is well at home. The event was organised in appreciation for Fathers' handwork, dedication and sacrifice and also to show how much they are treasured!
The celebration was further enhanced with some 30 Residents from Christalite Methodist Home. The Residents were invited to share the joy and 3 of the Residents joined in cutting a cake to commemorate Father's Day Celebration. Sirpigal was also honoured to have the presence of Mr Vikram Nair, MP for Sembawang GRC, who graced the occasion. A 2 hour high-tea programme with entertainment enchanted about 150 guests who attended the event. Dr R Theyvendran, President of Tamils Representative Council, was given a token for being a fatherly figure to many and also for Sirpigal, since the day it was formed. Mr M Kunaseakanan, President of Sirpigal, gave away the token to Dr R Theyvendran. Mr Vikram Nair was also presented with a token. The programme was headed by a young member of team, Mr S Jegadheswaren, who had an enriching experience heading the programme. Another interesting highlight was 2 young members also made valuable contributions during the programme. Mr Rengamurthi, co-anchored the programme for the first time with Ms Thiruselvi. 2 wonderful art pieces painted by Ms Kavitha were presented as tokens to both Mr Vikram Nair and Dr R Theyvendran.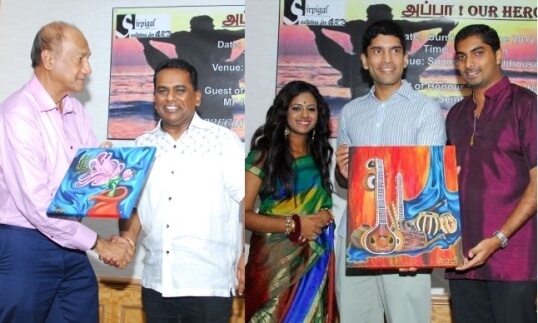 "One father is more than a hundred schoolmasters." by George Herbert
தந்தையரைப் போற்றிய 'அப்பா நமது நாயகன்'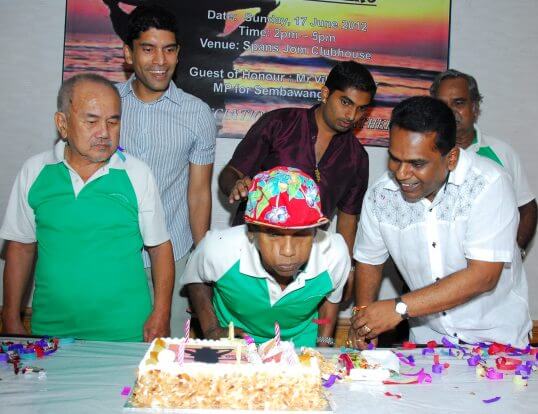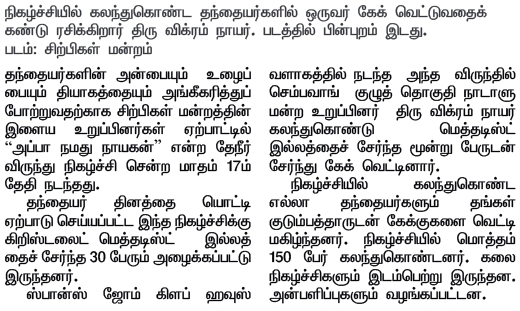 வசந்தம் தமிழ்ச் செய்தி : தந்தை என் நாயகன் சிறப்பு நிகழ்ச்சி
தாய்மார்கள் பெரும்பாலும் வேலைக்குச் செல்லும் சூழலில், ஒரு குடும்பத்தில் தந்தையின் பொறுப்பு மிக முக்கியமானது. அவர்களுடைய கடமைகளையும் அவர்கள் செய்யும் தியாகங்களையும் கௌரவிக்க ஒரு நிகழ்ச்சி.