தமிழுக்கு தலை வணங்க வைத்த கருத்தரங்கு / Heads Bow for Tamil Language @ MDIS
ஸ்ரீ திவ்யாபாரதி
தமிழுக்கு தலை வணங்க வைத்த கருத்தரங்கு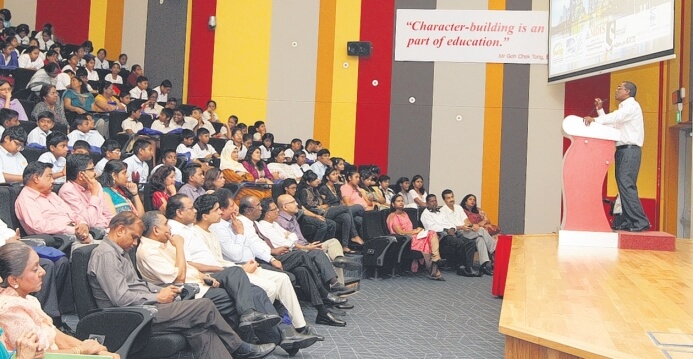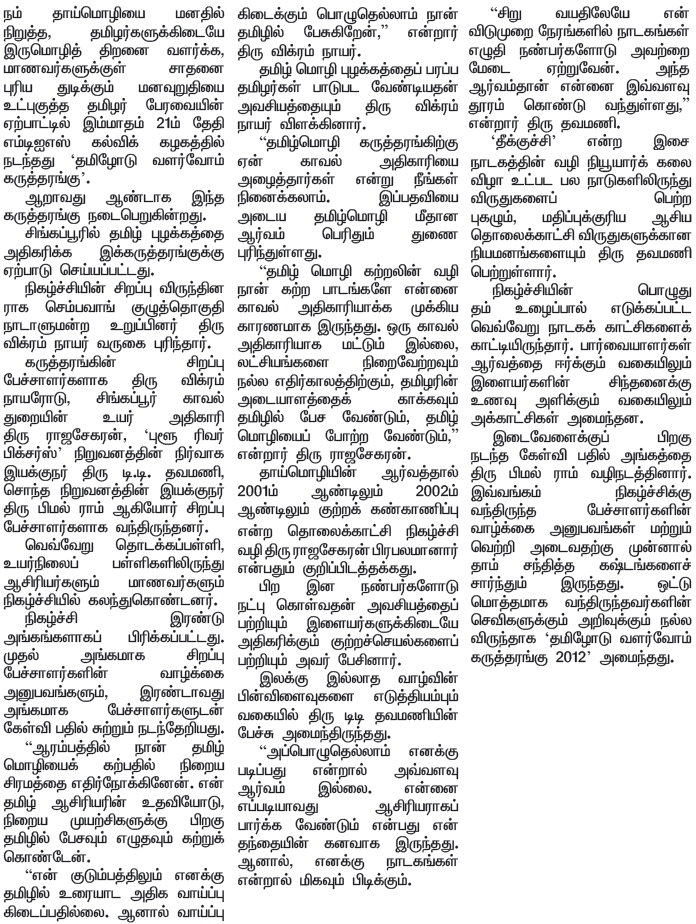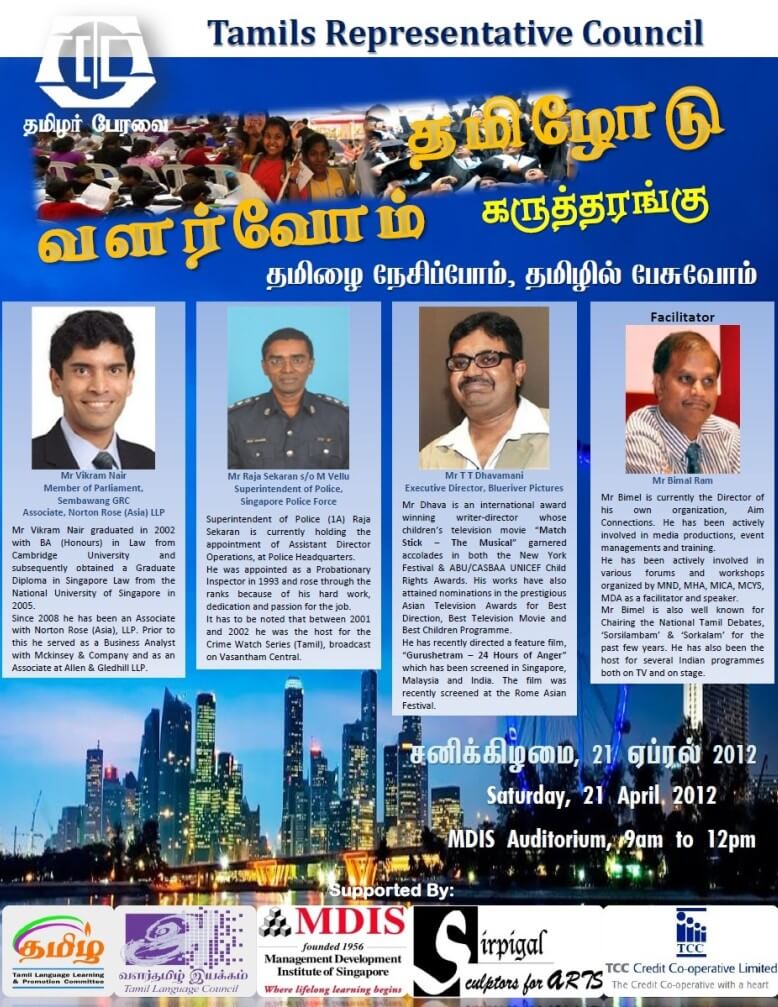 Heads Bow for Tamil Language @ MDIS

Keep your mother-tongue in your heart; be proficient in 2 languages; have the courage to prove your worth.
These were some of the invigorating messages laid out to the some 400 students at the Tamil Language Forum – Progress with Tamil – organized by TRC on 21 April 2012 at MDIS Auditorium. Apart from the students, about 50 Tamil Teachers and a number of Community Leaders were present too.
Held for the 6th consecutive year the main objective of the forum is to encourage students to use the language and continue speaking in Tamil. At every forum, TRC identifies and promotes successful Tamil speaking Singaporeans who act as role models for the students.
This year's role models were Mr Vikram Nair, Member of Parliament for Sembawang GRC & Guest of Honour for the event; Superintendant V Raja Segaran from the Singapore Police Force and Mr T T Dhavamani, Executive Director of Blue Rive Pictures Pte Ltd. Mr Bimel Ram acted as the moderator for the dialogue session that followed the speeches by the 3 speakers.
The forum was a tremendous success as we saw students clamoring to ask questions, patiently sitting down for about 3 hours immersed in the speeches by the 3 speakers. Teachers also welcomed the opportunity for the students to interact with the speakers and the learning-points from the forum will be re-emphasized during lessons.
Let's Speak Tamil & Progress with Tamil
வசந்தம் தமிழ்ச் செய்தி
Comments:
I was present at the "Thamizhodu Vallarvom" program at MDIS. It was impressive - a very well organized event that was most appropriate for students and teachers. The inclusion of role model speakers is an excellent format that should retained for future years. My congratulations to TRC.
Mr VP Jothi
Chairman, Tamil Language Council
My pleasure to support this excellent initiative!
Mr T Raja Kumar
Deputy Commissioner (Policy)
Singapore Police Force
மாதம் 'தமிழோடு வளர்வோம்' என்ற கருத்தரங்கினைப் பள்ளி மாணவர்களுக்காக நடத்திவருகின்றது. ஆறாவது ஆண்டாக இவ்வாண்டும் ஏப்ரல் மாதம் 21ஆம் தேதி எம்டிஐஎஸ் கல்விக் கழகத்தில் 'தமிழோடு வளர்வோம்' கருத்தரங்கு மிகச் சிறப்பாக நடைபெற்றது.