A Building for Tamils - More than $50,000 raised at TRC Affiliates meeting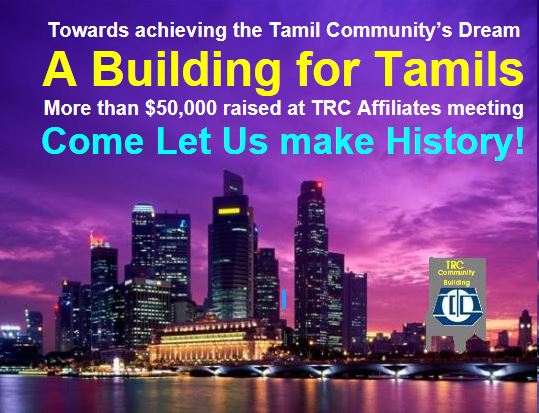 At the TRC affiliates meeting it was resolved that we must take firm and decisive action to have our own building.
Affiliates and individuals present spontaneously pledged $50,000 towards a TRC Building.
For over 30 Years the Tamil Community's cherished dream is to having a building which it can call its own. Mr G Kandasamy (Past President of TRC) had started this in Nineties when he set up a Building Fund. When Dr R Theyvendran took over in 2000, the dream continued. However, over time other issues had cropped up and prevented this dream from becoming a reality. Now, it looks like the movement to have a building has been hastened with the strong support of many Tamil Community Organisations.
At the recently held dialogue session between TRC and its 35 Affiliate Organisations, this issue was raised and we are proud to inform that a number of Organisations have come forward to pledge more than $50,000 towards TRC's Building Fund. Organisation leaders have also called for TRC to set up a working committee on this and take steps to make the dream reality.
TRC is calling all Tamils and Tamil Organisations to come forward and be part of this historic movement.