Sorpor/சொற்போர் 2013 (Briefing and Workshop)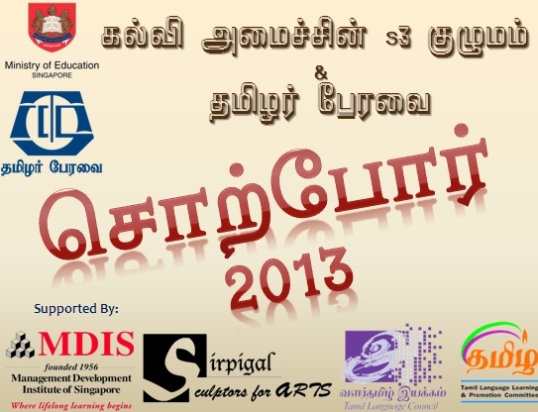 SORPOR 2013 (National Tamil Debate series for Primary Schools) is organised once biennially by Tamils Representative Council and the S3 Cluster, Ministry of Education. This event is supported by the Tamil Language Learning & Promotion Committee (TLLPC) and the Tamil Language Council (TLC). This is the 3rd edition of the series started in 2009.
The objectives of the event being:
To enable Indian students to improve their proficiency in Tamil Language, both spoken and written, through debating and articulation skills.
To enhance the interest of all our students in the learning of Tamil language.
To encourage and promote wider use of spoken Tamil both in school and at home in line with the current initiatives of the government.
To promote community cohesiveness, through regular interaction between educational institutions and grassroots organizations.
This year more than 40 Schools indicated their interest in participating, but only 32 Schools were selected. The 32 Schools will go through 2 preliminary rounds, a quarter-final, semi-final and final before one of them being crowned as Champions and receiving the Sorpor Challenge Shield. The winners will receive $1,000 cash and the runners-up $750 cash.
There will also be prizes for the best speakers in each debate.
To prepare the students for the debates, a training workshop was held on Friday, 1 February 2013 at Woodlands Regional Library. Mrs Kunawathy Nallathamby (Vice Principal, Clementi Town Secondary School) and Mr S N V Nara (Director, SINDA and Director, IVANN Theatre), provided tips and points on how students can prepare themselves, art of presentation, body language etc.
After the workshop, they also took questions from the students. Students keenly participated in the Q&A segment. In fact the organisers had to cut short the segment due to a large number of questions.
Both Students and Teachers commended that the training session was fruitful and benefited them as practically all students were first time debaters.
The evening ended with refreshments for all and with the students looking forward to the 1st round to be held on 16 February 2013.