$120,000 raised for Tamil Community?/?Bound for Cannes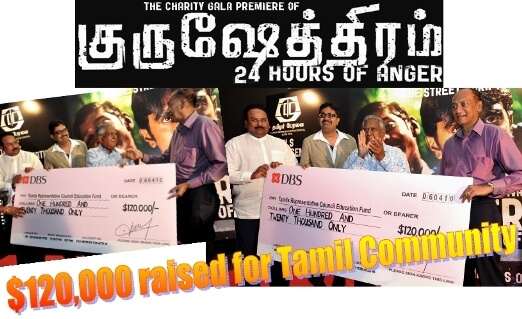 Tamils Representative Council successfully organised the grand Charity Gala Première of first Singapore produced Tamil featured film 'GURUSHETRAM - 24 Hours of Anger' on Tuesday, 6 April 2010 which was held at Golden Village Cinema at VivoCity. The Organising committee lead by its Deputy President Mr Vivakanandan, raised $120,000 for the 'Kandasamy Education Trust Fund'.
Over the years the fund has benefited more than 1,000 Tamil students from low income families by giving out more than $100,000 in bursaries. Another 250 students have benefited by being rewarded for achieving excellent results in PSLE, GCE 'O' & 'A' level exams. We also use the funds to give out study grants for those taking tertiary education.
President S R Nathan graced the event and supported the first local produced Tamil film.

There were many firsts achieved through this event:-
1st locally produced Tamil feature film; 1st time $120,000 being raised through a Tamil movie; 1st time such an amount is raised in a very short time (3 weeks);
The launch of the movies was part of this year's Tamil Language Festival 2010. The movie is produced by Blue River Pictures, in association with Singapore Film Commission, a Golden Village theatres' release, "Gurushetram - 24 Hours of Anger", starring Vishnu, Sivakumar, Mathialagan, Rajesh Kannan, Gunalan and many others.
Bound for Cannes
Director of Singapore-made Tamil film Gurushetram - 24 Hours Of Anger hopes the film's local buzz will encourage international interest

AFTER creating a buzz among the local Indian community in Singapore, Singapore-made Tamil film Gurushetram - 24 Hours Of Anger is headed to Cannes.
Produced by Blue River Pictures, which was founded by director and screenwriter T.T. Dhavamanni, the film is about Prakash whose broken family leads him to seek shelter with his uncle, the head of a drug ring, with his mentally challenged younger brother. They both end up being accomplices in his drug operations and are pursued by a narcotics officer.
Mr Dhavamanni told tabla! that he will be promoting the film during the annual Cannes film festival - with the Media Development Authority's support - and is hoping that the European film distributors like it.

"So far we've had some of them asking us to send us the screeners, so I am very hopeful that there will be a few distributors who are interested in picking it up," he said.

Chunks of the story are inspired by Mr Dhavamanni's childhood and the rest from the young men from broken homes he has met in the course of his work as a writer, director and producer. The stories, he said, are always the same: Disaffected youth from violent homes with violent lives.

"That's why, for this film, most of my crew members are young people from ITE or university. I wanted them to be involved in the process as much as possible and feel like whatever they want to do can be achieved. The success of this film is as much theirs as it is mine," he added.

Mr Dhavamanni has won several local awards and a New York Festivals award for his tele-movie Match Stick -The Musical and is hoping his film will go down that route.

Gurushetram was recently launched at a charity gala premiere by the Tamils Representative Council (TRC) in conjuction with the Tamil Language Festival. President S.R. Nathan was the guest-of-honour accompanied by other prominent members of the Indian community. Among them were Minister of State for Trade and Industry S. Iswaran, Nominated Member of Parliament Viswa Sada-sivan and Tamil Murasu chairman S. Chandra Das.

TRC raised $120,000 for its education fund which helps students who come from low income families as well as those who excel academically.