Indian achievers honoured in book
நம் சாதனையாளர்கள்
Indian achievers honoured in book
(The Straits Times, Saturday 20 February 2010)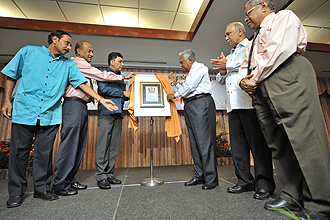 (From left) Dr Varaprasad, Dr Theyvendran, Mr Jaleel, President Nathan, Mr Das and Lt-Col Arumugam at the launch of Num Sathanaiyalargal (Our Achievers) at The Grassroots Club in Ang Mo Kio last night. (ST PHOTO: NG SOR LUAN)
HIS acrylic and watercolour paintings line the walls of his friends' homes as retirement sparked a talent Lieutenant-Colonel (Ret) G. Arumugam never knew he had.
But the prolific painter is better known in the Indian community for his commitment to public service.
The 74-year-old, who used to be staff officer in the Singapore Armed Forces, is a trustee of the Sri Darma Muneeswaran Temple in Serangoon North, and a Justice of the Peace who has solemnised more than 100 marriages in 13 years.
He has also served 30 years on the Board of Visitors of the Ministry of Home Affairs, a body that ensures that drug rehabilitation centres meet care standards.
He has received four National Day Awards, and yesterday he received yet another accolade.
He is among six prominent Indian community leaders featured in a book, Num Sathanaiyalargal (Tamil for Our Achievers).
It was launched at The Grassroots Club in Ang Mo Kio last night by President SR Nathan, who was also featured in the book.
The other four are: former MP S. Chandra Das, 70; National Library Board chief executive N. Varaprasad, 61; Stamford Press chairman R. Theyvendran, 67; and businessman S.M. Abdul Jaleel, 51.
Speaking to reporters after the launch, Mr Nathan said he hopes the stories 'will become a lesson plan for young children'.
Like many in his generation, Mr Nathan came from humble beginnings. He started work as an office boy at 16, became a medical social worker after obtaining a university diploma, and later, rose through the ranks in the public sector.
He was elected President of Singapore in 1999, and again in 2005.
About 2,000 copies of the 170-page book have been published and will be given away free.
The $30,000 publishing bill was picked up by Mr Jaleel, chief executive and founder of Mini Environment Service Group, which builds and operates dormitories for foreign workers and students. It has four multimillion-dollar projects here, and is expanding in the Middle East.
As a young boy, he was so poor he slept in back lanes and dropped out of school at 16.
Today, most of his time is spent on charity work, with children's education topping his list of causes.
At the book launch, he presented $500,000 to six beneficiaries, including $200,000 to The Straits Times School Pocket Money Fund.
The others are The President's Challenge 2010 and the four self-help groups: Mendaki, Chinese Development Assistance Council, The Eurasian Association and the Singapore Indian Development Association.
Mr Das is best known for the 16 years he spent as an MP in Ang Mo Kio, and 12 years as chairman of supermarket chain NTUC FairPrice.
At FairPrice, his efforts to keep prices affordable became so legendary that when he stepped down in 2005, his colleagues presented him with a portrait of himself with the words 'Mr Everyday Low Price'.
The monicker was a reference to the chain's regular offers of goods at 'promotion' prices.
Dr Varaprasad was founding principal of Singapore's third polytechnic, Temasek Polytechnic.
He is credited with transforming the image of polytechnic education, making it an attractive option for secondary school-leavers.
Dr Theyvendran is a businessman with investments in Singapore, Sri Lanka, Australia and India that generate an annual revenue of $20 million. He also sits on 14 committees, including the Ceylon Sports Club and the Tamils Representative Council, an Indian community group.