Book Launch
Book Launch "About Thamizhavel" and "The Legacy of G. Sarangapany"
A book launch was held in Memory of the 110th birthday of G. Sarangapani. The book entitled "Life history of G. Sarangapani and His commitments to the Tamil Language. It was written by Mr Mohd Elias. Prominent community leaders were present during the book launch. The Guest of Honour for the event was Mr SR Nathan former President of Singapore. An entertaining programme was arranged and also well received. It was indeed heart warming to see many Tamil speaking members of the public present at this event.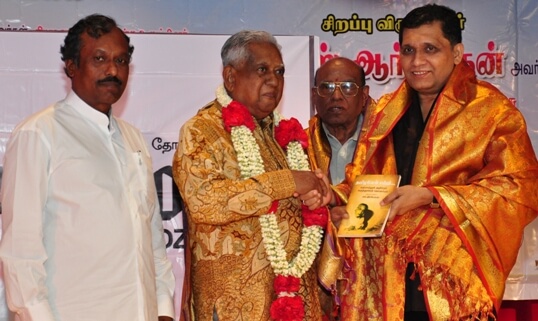 Mr V Pandiyan, Secretary-General of Tamils Representative Council together with Mr V Bala, Mr Balan, Dr NR Govindan, Mr Kalaichelvam were also present at the event.
The late honourable Mr Sarangapani was also active as a Tamil writer and publisher in his own right. In 1935 he launched Tamil Murasu, which remains Singapore's only daily Tamil newspaper. He was also a founder of the Tamils Reform Association, and served as its Chairman and Secretary at various points. Through his publications and the Association, Mr Sarangapani promoted the importance of education, as well as denouncing the Hindu caste system, superstitions and alcoholism. Mr Sarangapani was also a champion of the Tamil language in Singapore. He was part of campaigns to make Tamil one of the four official languages of Singapore, as well as having it taught in Singapore schools from the primary to tertiary level. He also helped set up the Department of Indian Studies at the University of Malaya then in Singapore. Mr Sarangapani also urged Tamils to embrace Singapore as their home. The Guest of Honour, Mr SR Nathan recollected that
"In the early 1950s Mr Sarangapany helped many members of the Indian community to register themselves as citizens of this country. He personally collected and distributed the application forms to those who were permanent residents and those who were stateless. The Indians who are now living in prosperous Singapore must never forget his efforts in encouraging and securing citizenships for them".
சிங்கப்பூரில் தமிழவேள் கோ.சாரங்கபாணி பற்றிய நூலை முன்னாள் அதிபர் எஸ்.ஆர்.நாதன் வெளியிட்டார்
தமிழவேள் கோ.சாரங்கபாணி அவர்களின் 110ஆவது பிறந்தநாளையொட்டி அண்மையில் சிங்கப்பூரில் நூல் வெளியீட்டு விழாவோடு பல்வேறு சிறப்பு அங்கங்கள் இணைந்த இலக்கிய விழா மிகச்சிறப்பாக நடைபெற்றது.
சிங்கப்பூரின் சமூக, இலக்கிய இதழான செம்மொழி, தமிழவேள் நற்பணி மன்றத்துடன் இணைந்து நடத்திய இவ்விழா கடந்த 26.1.2013 சனிக்கிழமை மாலை உமறுப் புலவர் தமிழ்மொழி நிலையத்தில் நடைபெற்றது.
விழாவிற்கு சிறப்பு விருந்தினராக, சிங்கப்பூரின் முன்னாள் அதிபர் எஸ்.ஆர்.நாதன் கலந்து கொண்டு சிறப்பித்தார். மேலும்
A champion of Tamil causes who raised profile of Indians here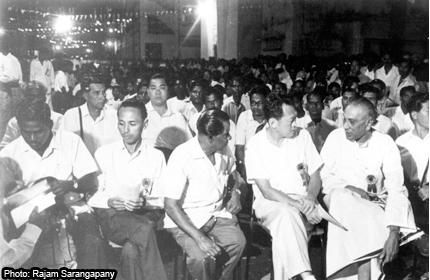 By M Nirmala
The Straits Times
Monday, Feb 11, 2013
He was an indefatigable pioneer Indian community leader who championed the cause of Tamil education and devoted more than 50 years of his life to fighting for social reform among the poorly educated immigrant Indians in Singapore.
The late Govindasamy Sarangapany was a Tamil reformist and a staunch Singaporean whose work in the social and literary fields started in the 1920s. more